It's that time of year again! Festival season is in full swing and I kicked it off in the best way possible by starting with Calgary Metalfest as they triumphed over the 4th year of the festival. This was my third year shooting this fest, and my most favorite year of all! Though Calgary Metalfest spans over 4 venues - Ship & Anchor, Vern's , Lord Nelson's and, Dicken's Pub - I spent my weekend hanging out at Dicken's for the main headliner bills.
As metal fans from far and wide gathered in Dicken's Pub on Friday June 5th, eight of western Canada's finest metal bands such as: Moosifix, Riot City, Every Hour Kills, Neck of the Woods,Vile Insignia, Without Mercy, and Begrime Exemious came together to dominate the stage. Headlining night one at Dicken's was Alberta's favorite terrorist-thrashers, Villainizer. With the release of their newest album - Annihilation of Self - Villainizer deemed their set at the festival as their final show in Calgary, Alberta; Concluding a 5 year-long journey with a bang, Villainizer reigned terror over their chaotic audience as they boomed through a heavy 8 song set, playing fan-favorite tracks such as 'Twin-Tower Two Step', 'Terror Abraxas' and Candlemass cover 'Gallows', including a skit part way through the performance, enacting the hanging of fontman, Rob the Arab Villain (AKA RAV), and closing with their hit song 'Terrorist Metal' with fans moshing and singing along, making Villainizer's farewell to Calgary a truly memorable goodbye.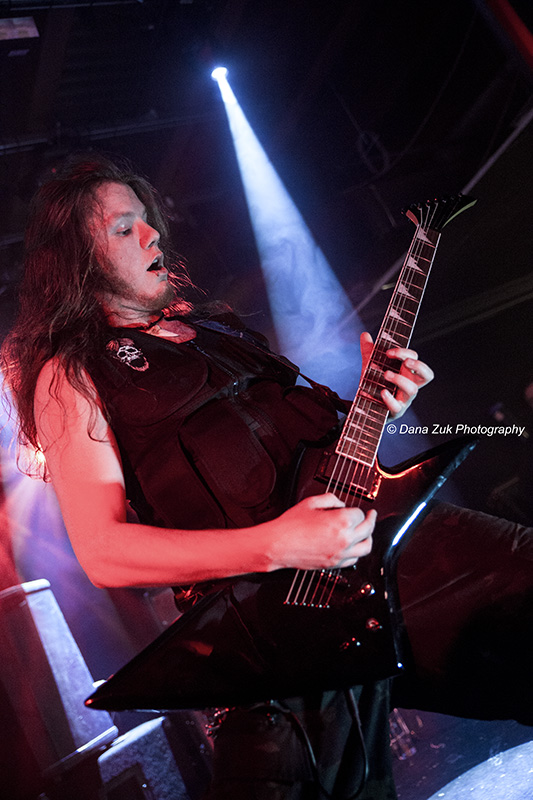 The final day of Calgary Metalfest is always a blast. The main headliners hit the Dicken's stage, and a charity auction takes place to raise money for the Southern Alberta Make A Wish Foundation of the Stollery Children's Hospital. A whole bunch of cool items were donated this year, such as tickets to other metal festivals in western Canada, an exclusive print by Calgary photographer Monika Deviat, a giant Calgary Metalfest show poster that every band signs, and a rare double neck Schecter Diamond Series guitar. All together we managed to raise $2200.00 Canadian dollars towards helping sick kids in southern Alberta.
Saturday June 6th night's bill, similar to Friday's, consisted of a new batch of eight stellar Canadian bands such as: Apprentice, Noire, Sparky, Viathyn, Untimely Demise, Caveat, and Into Eternity that were all ready to rumble on stage. The main headliner for June 6th was Calgary's own Kobra & The Lotus, hitting their home town with a devastatingly wicked performance that left Dicken's Pub begging for more. Kicking off the set with title track of their newest album - High Priestess - Kobra & The Lotus hammered their way through a hefty 12 song set, shredding through fan favorite and classic tracks such as Soldier, Welcome To My Funeral, Forever One and 50 Shades of Evil.
I've said it before, and I'll say it again... The people who put on Calgary Metalfest every year are true rockstars! They work their butts off to put on one of Alberta's top metal festivals and it certainly doesn't go unnoticed. These people not only are supplying a good time for so many metal fans, but are main contributors of the heavy metal culture and lifestyle in Alberta, and Canada! I'm proud to be a small part of this event, and with the utmost appreciation and gratitude, I say THANK YOU!!